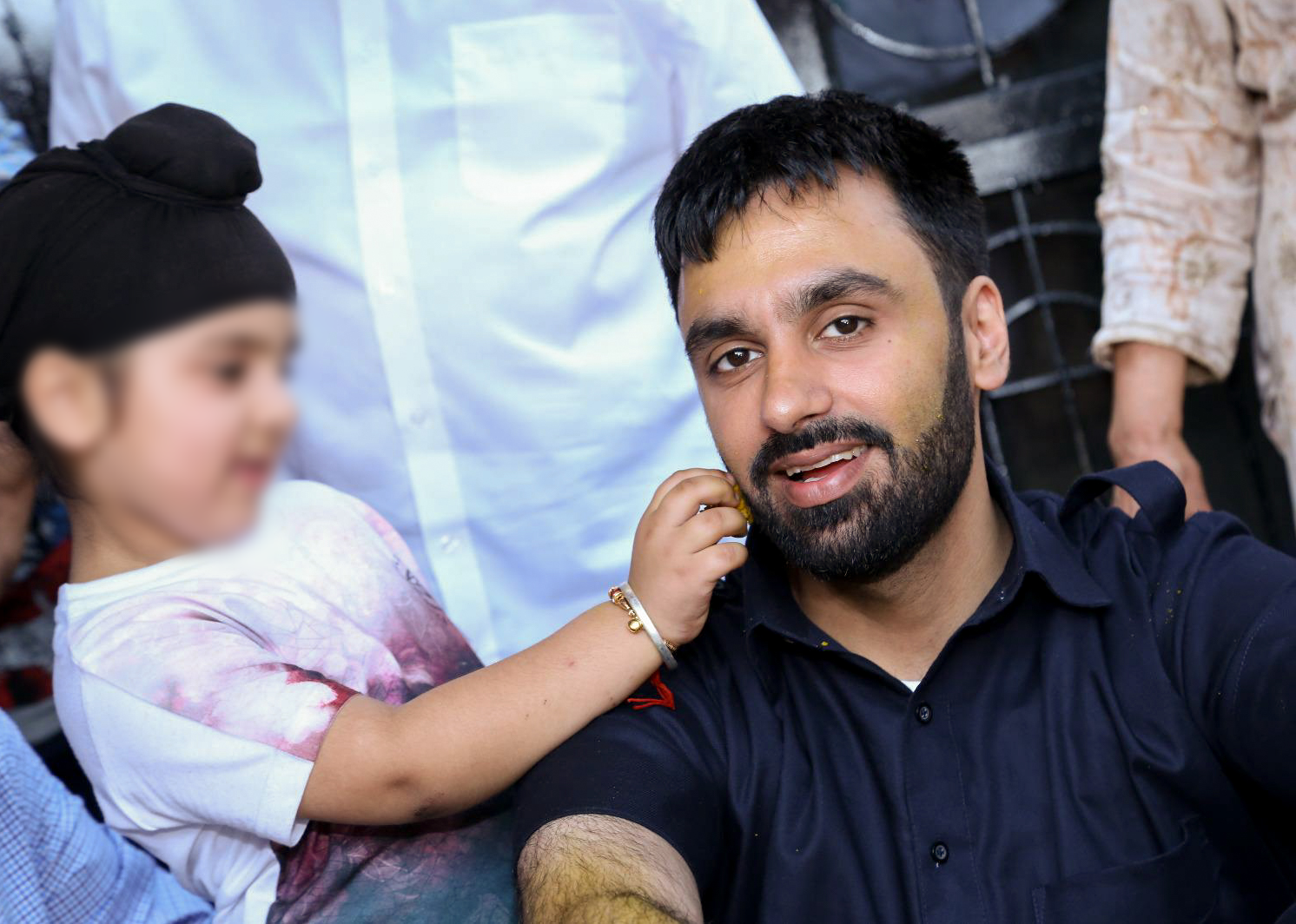 Jagtar Singh Johal
Jagtar Singh Johal, "Jaggi", is a British human rights defender from Dumbarton, Scotland, who has been arbitrarily detained since 2017 in India. He faces a possible death sentence following charges in which the primary evidence against him is a confession extracted under torture.
JAGTAR'S STORY
Jagtar is a Sikh faith activist and blogger who has been critical of human rights violations committed by the Indian government against Sikhs.
On 2 October 2017, Jagtar travelled to India to marry his fiancée. On 4 November 2017, three weeks after his wedding, he went out shopping with his wife and another relative in the city of Jalandhar, in Punjab, when a group of men took Jagtar from his car, placed a black hood over his head and put him into an unmarked vehicle. They did not identify themselves as police officers or present a warrant for his arrest.
On 5 November 2017, Jagtar was put in police custody. For 10 days he was held incommunicado in an undisclosed location with no access to a lawyer, his family, or a representative of the British High Commission.
Jagtar asserts that between 4 and 9 November 2017, Indian police interrogated and tortured him by applying electric shocks to his ears, nipples and genitals, forcing his limbs into painful positions, depriving him of sleep, and that police threatened to shoot him and burn him alive, at one point bringing petrol into his cell.
In a closed court hearing on 10 November 2017, witnesses reported that Jagtar had difficulty standing or walking and had to be assisted by police officers in and out of the courtroom. Jagtar also asserts that he was forced to sign blank pieces of paper by the police which were later presented by the authorities as a confession. Jagtar is at serious risk of a death sentence because of this torture-induced confession as he faces charges that carry the death penalty as a punishment. He has remained all this time in pre-trial detention.
In February 2018 Jagtar detailed the torture he suffered in a handwritten letter to his lawyer in India. REDRESS asked the International Rehabilitation Council for Torture Victims (IRCT), the world's leading centre of knowledge on the physical and psychological effects of torture and ill-treatment, to conduct an independent expert analysis of this letter. In November 2019, IRCT experts concluded that there were "reasonable grounds" to believe that Jagtar was tortured, and highlighted "an urgent need for Mr Johal to undergo an independent medical examination and psychological evaluation in order to effectively investigate [the claims]". India has yet to provide Jagtar with an independent medical examination despite repeated requests by his lawyers, and has taken no steps to investigate the serious allegations of torture, as far as REDRESS is aware.
ACTION FOR JUSTICE 
On 18 December 2017, REDRESS and Ensaaf submitted an urgent appeal to the UN Special Rapporteur on Torture, urging him to call on the Government of India to ensure that Jagtar was protected from torture and ill treatment, that the allegations of torture were investigated, and that he was provided with medical treatment and legal counsel.
On 29 January 2018, the UN Special Rapporteur on Torture; the UN Special Rapporteur on Freedom of Religion or Belief, and the Vice-Chair of the UN Working Group on Arbitrary Detention sent a joint urgent appeal to the Government of India.
Following the publication of a report by the Investigatory Powers Commissioner's Office, the UK's intelligence watchdog, on 5 March 2020, Reprieve investigators uncovered information which suggested that in 2017, a UK Government minister may have authorised MI5 and MI6 to share information about a UK citizen that led to his arrest and torture in India.
In August 2022, Jagtar's legal team at Leigh Day filed a legal claim, supported by REDRESS and Reprieve, which argued that MI5 and MI6 may have contributed to Jagtar's detention and torture by sharing intelligence with the Indian authorities, when there was a real risk that Jagtar could be tortured, mistreated, or face the death penalty.
Jagtar is asking the UK Government to grant him redress for the harm he has suffered and recognise its actions were unlawful. He has also sought a public apology for the UK Government's role in his suffering.
THE OUTCOMES
On 19 November 2021, following submissions by Advocate Ximena Vengoechea and Reprieve, who are working alongside REDRESS on the case, the UN Working Group on Arbitrary Detention (WGAD) issued an opinion that found that he was "subjected to torture", his detention in India "lacks legal basis" and "is arbitrary", and called on India to immediately release him.
The WGAD found that Jagtar's detention is based on "discriminatory grounds" owing to his Sikh faith, political activism, and his "status as a human rights defender" . The WGAD referred the case to other UN Special Rapporteurs, including the UN Special Rapporteur on Torture, and stated that the appropriate remedy would be to release Jagtar immediately and provide him with compensation and other reparations. The WGAD also urged the Government of India to ensure the circumstances of his arbitrary detention are investigated and those responsible held accountable.
QUICK FACTS
Case name: Jagtar Singh Johal
Jurisdiction:  United Nations Special Rapporteur on Torture
Date filed: 18 December 2017
Current status: Submission filed
Legal representation: REDRESS
KEY WORDS
A United Nations Special Rapporteur is an independent expert appointed by the UN Human Rights Council to examine and report back on a country situation or on a specific human rights theme.
ORGANISATIONS
Ensaaf is an organisation working to end impunity and achieve justice for mass state crimes in India, with a focus on Punjab.
Reprieve is a legal action non-governmental organisation fighting for justice.
PHOTO CREDIT
Photo by the #FreeJaggiNow Campaign.
WATCH A VIDEO