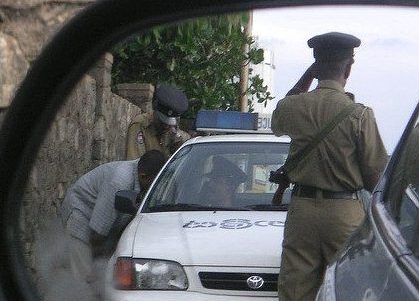 UN body calls on Sri Lanka to investigate torture and death of victim of alleged police brutality
The United Nations Human Rights Committee has given the Sri Lankan government six months to inform the Committee about any measures taken to fulfill its international obligations in a case involving a dead victim of alleged policy brutality.
This case concerns the torture and death of Amarasinghe Arachchige David Amarasinghe, who sustained fatal injuries while in the custody of the police of the Sri Lankan town of Kirindiwela in 2010. According to eye witnesses, on 13 August 2010, two police officers hit Amarashinge with a rod, and struck his head heavily against a police van while arresting him.
Amarasinghe was then put into a police jeep where he was severely beaten, with blows by feet and iron sticks to his head. He died in the morning of the next day on 14 August 2010, after being taken to hospital.
An investigation was started into the death of Amarasinghe, and a Sri Lankan magistrate found that there was enough evidence to charge the arresting police officers with murder. However, while the proceedings were still ongoing, the Attorney-General intervened, blocking the continued investigation by the magistrate.
After failing to obtain justice in Sri Lanka, the victim's brother, Amarasinghe Arachchige Simon Amarasinghe, brought an individual complaint before the UN Human Rights Committee in 2012, supported by human rights organisations REDRESS and the Asian Legal Resources Centre.
He claimed that Sri Lanka had violated his brother's rights under Articles 6 (right to life), 7 (prohibition of torture and ill-treatment) and 9 (right to liberty and personal security) of the International Covenant on Civil and Political Rights (ICCPR), which entered into force in Sri Lanka in 1980. He also claimed that Sri Lanka had violated his brother's and his own right to a remedy.
On 13 July 2017, the Committee adopted its views in this case. It found that Sri Lanka violated Articles 6, 7 and 9 of the ICCPR, and noted that "close to seven years elapsed since the death of the victim, the author is still ignorant of the circumstances surrounding his brother's death, and the State party's authorities have yet to carry out a full and independent investigation."
The Committee urged Sri Lanka to properly investigate, prosecute and punish those responsible for Amarasinghe's arbitrary detention, torture and death, and to provide an effective remedy to his brother, including by issuing a public apology to the family. It also reminded Sri Lanka of its obligation to take steps to prevent similar violations in the future and to ensure that its legislation complies with the provisions of the ICCPR.
Sri Lanka was given 180 days to inform the Committee about any measures taken to comply with its views. REDRESS and the Asian Legal Resource Centre will continue to support Amarasinghe's family to ensure that Sri Lanka complies with the Committee's decision.
Further information from Eva Sanchis, Head of Communications of REDRESS, on [email protected] or +44 (0)20 77931777 (English) or Asian Human Rights Commission, G/F, 52 Princess Margaret Road, Ho Man Tin, Kowloon, Hong Kong or Tel: +(852) 2698 6339, Fax: +(852) 2698 6367 or Email: [email protected].
REDRESS is an NGO based in London and The Hague which seeks justice and reparation for survivors of torture and related international crimes. It fulfils its mandate through a variety of means, including casework, law reform, research and advocacy. It holds consultative status with ECOSOC.
The Asian Legal Resource Centre (ALRC) works towards the radical rethinking and fundamental redesigning of justice institutions in order to protect and promote human rights in Asia. Sister organisation to the Asian Human Rights Commission, the ALRC is based in Hong Kong and holds consultative status with ECOSOC.