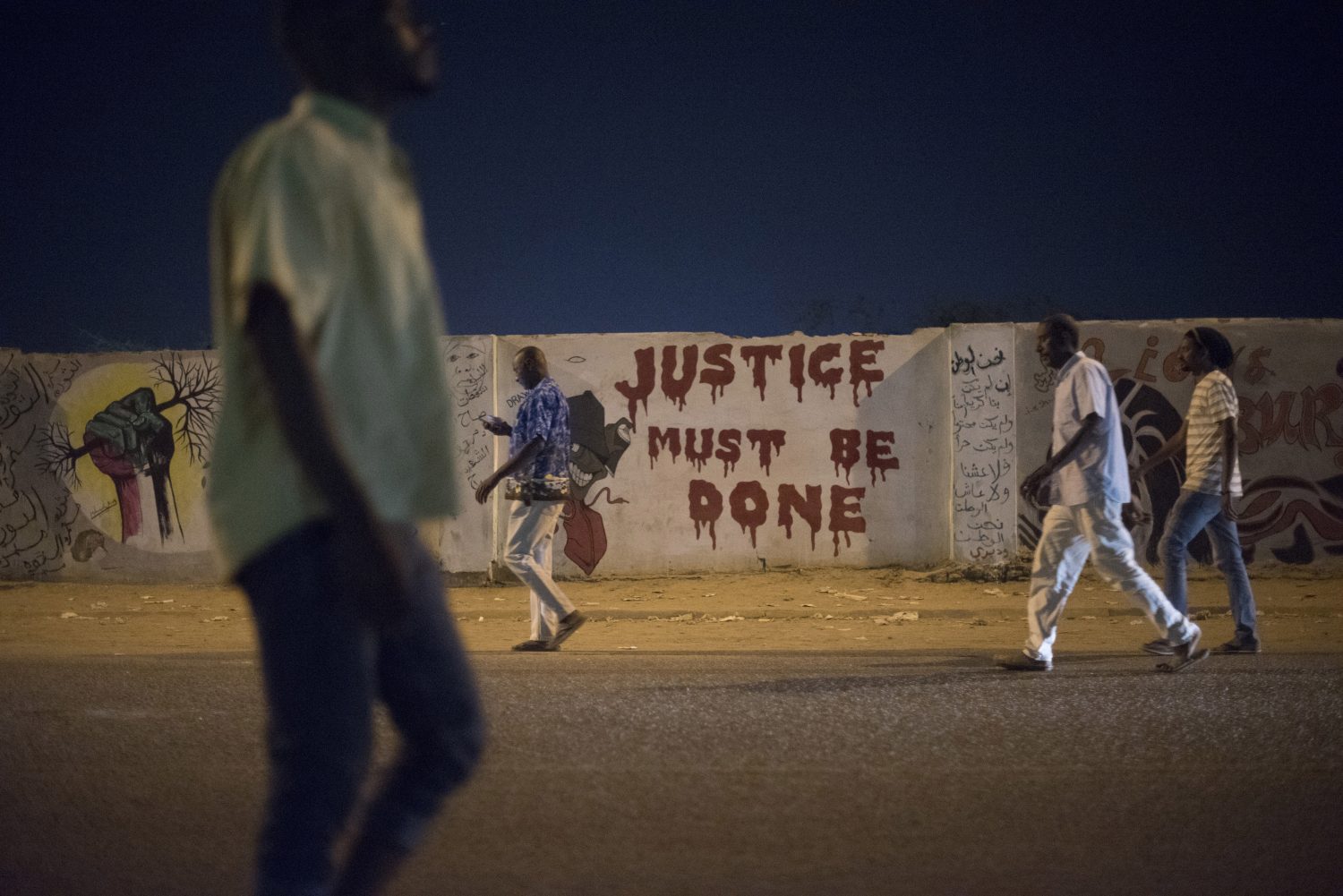 Further Historic Changes Made to Sudanese Laws
New details have emerged about significant changes to Sudan's laws on torture, accountability and the rule of law. A number of important legislative amendments have been published in a new issue of Sudan's Official Gazette No. 1904 (in Arabic). These changes have strengthened legal protections against torture, removed immunities to prosecution for members of the Sudanese security services, and mandated a Commission to reform the Sudanese legal system.  
"The new changes are a crucial step towards ending torture in Sudan, and they open the door to prosecuting those responsible for countless past acts of torture and other international crimes. More work is still needed to bring Sudan's laws into line with its international human rights obligations. But we should take this opportunity to commend the transitional government for its progress, and to recognise those in Sudan who have campaigned for these changes for decades," said Charlie Loudon, REDRESS' International Legal Adviser. 
Laws on torture 
A critical change has been made to Article 4(d) of the Criminal Procedure Act 1991. The existing provision has been replaced with a revised provision that explicitly prohibits torture of an accused person: 
"It is prohibited to torture the accused or assault him in any way, and he is not forced to provide evidence against himself." 
A change has also been made to Article 115(2) of the Criminal Law Act 1991. The provision had previously criminalised torture conducted by a public official to obtain or prevent the provision of information in legal proceedings. The amended provision now recognises that torture can be inflicted both physically and psychologically, and has increased the penalty from three months to three years. 
REDRESS and its partners in Sudan have been calling for improvements to the laws on torture in Sudan for over a decade. These amendments are historic progress towards beginning to establish a clear prohibition on the use of torture in Sudan. 
Further steps are, however, necessary to ensure the outright criminalisation of acts of torture in Sudanese law, and compliance with international law. In particular, the change to Article 115(2) is limited in application to torture perpetrated in order to obtain or prevent the provision of information in legal proceedings. Article 4(d), while of broader application, is only drafted as a "principle to be regarded" in the application of the Criminal Procedure Act. While, according to Article 3, the Act applies to all criminal actions, inquiry, arrest, trial and sanctions, the prohibition lacks a definition of torture or appropriate penalty. It is not included as a substantive provision of criminal law, but rather a principle of procedural law. 
As REDRESS has previously highlighted, most recently in its report, A Way Forward? Anti-Torture Reforms in Sudan in the Post-Bashir Era, Sudanese law needs to contain a robust definition of torture as a criminal act, in line with the requirements of the UN Convention Against Torture. Similarly, this change has not been accompanied by other critical amendments, including to ensure a right to reparation for victims of torture or adequate and proportionate punishments for the offence of torture. 
New amendments introduced under the Miscellaneous Amendments Law 2020 also remove flogging as a criminal sanction for a large number of criminal offences. REDRESS has previously reported on the use of flogging and other corporal punishment, which is outlawed under international law, in Sudan. The removal of this violent punishment – which has been described by the African Commission on Human and Peoples' Rights as "tantamount to sanctioning State sponsored torture" – is significant progress. It supports the repeal of the Public Order Laws in November 2019, and the removal of other laws which disproportionately impact women and permit torture. REDRESS calls for the complete eradication of all punishments which amount to torture, including the still-existing provisions for penal retribution by amputation.  
National Security Act 2010 
The Miscellaneous Amendments Law also appears to make broad–reaching changes to the National Security Act 2010, in particular by repealing Articles 50 to 53. 
Most significantly, this change removes the immunities that members of the National Intelligence and Security Services (NISS) previously enjoyed under Article 52. This is a momentous change to the obstructive legal protection formerly given to NISS agents and leaders, which allowed a system of rampant impunity to prevail for the crimes they committed. Torture, enforced disappearance, rape and extrajudicial killing, among other serious human rights abuses, are widely known to have been committed by members of NISS throughout the previous regime.  
REDRESS has represented a number of individuals who were tortured at the hands of NISS, such as Safia Ishaq, who was tortured and raped by NISS agents after she attended a protest in 2011. As advocated for in REDRESS' 2019 Report, by removing NISS agents' access to immunity, this amendment begins to realise the long-awaited possibility for the victims of these heinous crimes to seek justice and reparation for what they have suffered.  
The recent amendments have also repealed Article 50 of the NSA 2010, which provided NISS with broad powers of arrest and detention. These powers were often misused, resulting in torture and other violations being inflicted on individuals in NISS custody. It is not yet clear whether removing Article 50 will equally stem the powers of the most recent formation of the security service, the General Intelligence Service (GIS). In May 2020, a GIS spokesperson asserted that the organisation still had powers to arrest, detain and interrogate persons for 24 hours, despite changes to the National Security Act in July 2019.  
With the removal of Article 50 and the powers of arrest and detention, the repeal of Article 51 is perhaps less concerning. This provision previously provided for the rights of arrested and detained persons in the custody of NISS. However, REDRESS observes that Article 51 did not provide sufficient protection for a detained person, notably lacking the right to be brought before an independent judicial authority within 24 hours of arrest, the right to a medical examination of all detainees, and for a comprehensive record to be kept of all interrogations.  
Currently, while it is unclear whether the GIS will have any powers of arrest and detention, REDRESS urges the Government of Sudan to ensure that all detained persons have clear and accessible rights. Practical and procedural safeguards, which are also seriously inadequate under the Criminal Procedure Act 1991, are vital to ensure that those in custody are not vulnerable to abuse or exposed to the risk of torture and other violations. For further detail, please see REDRESS' 2019 report. 
Commission for Reform of the Legal and Justice System 
A further important change instituted by the recently announced amendments is the enactment of a law which will create a Commission empowered to reform the legal and judicial system in Sudan. REDRESS strongly supports this development and lauds the aims of the Commission to ensure independence, adherence to the rule of law and the promotion of the principle of accountability in its reforms of the legal and judicial institutions in Sudan.  
Meaningful and effective reforms of these institutions are vital if the Government of Sudan is to uphold its commitments to justice and accountability set out in the Constitutional Declaration of 2019. The strength of Sudan's judicial institutions was hampered under the previous regime and reform is needed to rebuild both the functioning of and public confidence in these bodies.  
The creation of a dedicated commission to tackle this task is a very welcome step. In achieving these goals, REDRESS encourages the Government and the Commission to ensure that their efforts are sensitive to the needs of victims of human rights violations. Reforms must be adopted by a process which allows genuine consultation with affected individuals and communities and guarantees the rights of those relying on these changes to seek justice and reparation in a manner which is accessible and participatory. 
For more information or to request an interview, please contact: Eva Sanchis, REDRESS' Head of Communications at [email protected] or +44 (0) 7857 110076.