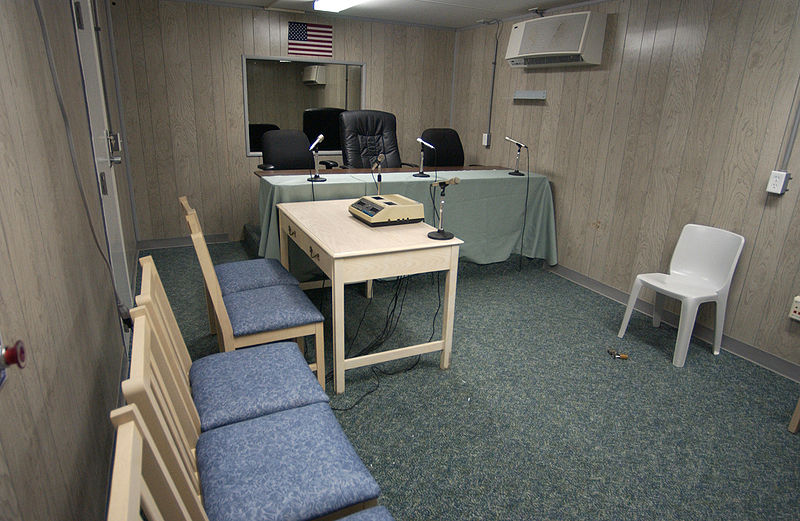 Mustafa Al-Hawsawi
MUSTAFA AL-HAWSAWI'S STORY
On 1 March 2003, Pakistani agents captured Mustafa al-Hawsawi in Rawalpindi, Pakistan, and transferred him into the custody of the Central Intelligence Agency (CIA).
He was tortured and detained in secret Central Intelligence Agency (CIA) black sites as part of the CIA's Rendition, Detention, and Interrogation (RDI) Programme until September 2006.
In September 2006, he was transferred to Guantánamo Bay, Cuba, and US officials finally acknowledged his detention. Mustafa was characterised as a High Value Detainee (HVD).
A 2004 confidential report of the International Committee of the Red Cross (ICRC) found that detainees labelled by the USA as 'HVDs' were at particular risk of torture and other ill-treatment.
The redacted Executive Summary of the Select Committee on Intelligence on its investigation into the RDI programme, released in December 2014, shed some light on the torture and ill-treatment suffered by him during his detention.
It confirms that he was subjected to water-dousing, walling, attention grasps, facial holds, cramped confinements, psychological pressures and sleep deprivation.
The Executive Summary also refers to the severe injuries sustained by him as a result of rectal examinations administered with "excessive force".
Following these violations, Mustafa was diagnosed with chronic haemorrhoids, an anal fissure, and symptomatic rectal prolapse. His access to medical care was delayed.
The Executive Summary also suggested that he was held in detention site VIOLET, which corresponds closely to public information known about a black site believed to be in Lithuania.
This is consistent with a detailed analysis of publicly available evidence on the CIA programme, which also suggested that Mustafa was secretly held in a CIA black site in Lithuania for an unknown period between March 2004 and September 2006.
Mustafa faces capital charges before a US Military Commission in Guantánamo Bay for his alleged involvement as a financier of the September 11, 2001 attacks in the USA.
However, the Executive Summary identifies him as one of several individuals who were detained under the CIA's program "despite doubts and questions surrounding [his] knowledge of terrorist threats and the location of senior al-Qa'ida leadership."
ACTION FOR JUSTICE
The UN Working Group on Arbitrary Detention (WGAD) has held that Mustafa's ongoing detention in Guantánamo Bay is arbitrary.
In July 2015, the Inter-American Commission on Human Rights requested the US to protect his life and personal integrity and to provide him with access to medical care.
REDRESS filed complaints with authorities in both Lithuania and Poland seeking the opening of investigations into allegations that he was held in Lithuania and held or transferred through Poland.
COMPLAINT IN LITHUANIA
In September 2013, REDRESS and the Human Rights Monitoring Institute (HRMI) submitted a complaint calling for an investigation into allegations that Mustafa was illegally transferred to, and secretly detained and tortured in, Lithuania as part of the CIA-led programme.
The decision of the Lithuanian Prosecutor General not to open an investigation was upheld on appeal.
Later, on 20 February 2014, it was announced that an investigation was opened into indications of a criminal activity related to the illegal transportation of persons across the state border.
In 2015, a previously closed investigation regarding the CIA programme was re-opened and was combined with the investigation regarding Mustafa.
On 26 August 2015, REDRESS, through local attorney Ingrida Botyriene, filed a request with the Prosecutor General to grant Mustafa victim status so that he could participate in the ongoing joint-investigation.
At the end of 2016, once all domestic remedies had been exhausted, REDRESS filed a complaint against Lithuania with the European Court of Human Rights which argued that Lithuania has violated the following Articles of the European Convention on Human Rights: Article 2 (the right to life – on the basis that there was a real risk that allowing his transfer to Guantánamo would result in him being subjected to the death penalty); Article 3 (the right not to be tortured, and the procedural right for any torture to be investigated); Article 5 (the right to liberty and security); Article 6 (the right to fair trial), Article 8 (the right to respect for private and family life), and Article 13 (the right to an effective remedy in Lithuania). This complaint was communicated to Lithuania on 30 January 2019.
Following Lithuania's response to that complaint in late 2019, on 31 January 2020 REDRESS filed its detailed comments on the State response, reiterating the contents of the claim made in December 2016.
COMPLAINT IN POLAND
In November 2013, Polish lawyer Dr. Bogumil Zygmont filed an application on REDRESS' behalf to the Appellate Prosecutor's Office in Kraków, seeking victim status for Mustafa in the ongoing investigation into allegations of CIA rendition and secret detention in the country.
Like the Lithuanian complaint, the Polish complaint relied on an analysis of publicly available evidence, including flight data and suspected movement of other detainees of a similar profile.
UNITED STATES OF AMERICA
Pre-trial proceedings are ongoing in Mustafa's case before the Military Commission at Guantánamo Bay.
On 17 October 2013, REDRESS filed a motion for leave to intervene in the proceedings.
REDRESS' submission also sought an order from the US Military Commission at Guantánamo Bay granting it permission to obtain a written authority from Mustafa to pursue legal action outside the US.
UNITED NATIONS
In March 2016, REDRESS, together with ICJ and OMCT made a Submission to the United Nations Comittee Against Torture (UNCAT) in relation to the USA's One-Year Follow-up Response to the Committee's Concluding Observations and Recommendations.
In April 2014, REDRESS, HRMI and other NGOs submitted a joint Shadow Report entitled "Investigating Lithuania's complicity in the USA's CIA Rendition, Detention and Interrogation programme" to the UNCAT.
In October 2014, REDRESS with partner NGOs submitted a report, "Rendered Silent: Ongoing violations arising from the denial of 'High-Value Detainees'" right to complaint of torture and other ill-treatment', to the UN Committee Against Torture.
In October 2019, REDRESS (together with the World Organisation against Torture (OMCT) and the International Commission of Jurists) made a submission to the Human Rights Council as part of the Universal Periodic Review of the United States.
In July 2021, REDRESS made a submission to the Universal Periodic Review of Lithuania which focused on the lack of effective investigation into Lithuania's complicity in, and facilitation of, the CIA's Rendition, Detention and Interrogation (RDI) Program. 
UNITED NATIONS SPECIAL PROCEDURES
On 19 February 2016, REDRESS sent a letter to several UN Special Rapporteurs to request urgent action in respect of Mustafa's medical situation.
INTERNATIONAL CRIMINAL COURT
On 20 November 2017, the Prosecutor of the International Criminal Court (ICC) requested authorisation from the Pre-Trial Chamber to initiate an investigation into alleged war crimes and crimes against humanity in relation to the armed conflict in Afghanistan since 1 May 2003 (as well as regarding similar crimes linked to the armed conflict in Afghanistan committed since 1 July 2002 even though they may have been committed on the territory of other states).
Any victims of these alleged crimes had the right to submit "representations" (including their views, concerns and expectations), to the ICC Judges that are considering the Prosecutor's request.
On 30 January 2018, REDRESS filed representations on behalf of Mustafa summarising what happened to him, where and when, the harm he suffered, along with recommendations as to what the investigation should include.
INVESTIGATORY POWERS TRIBUNAL
On 24 February 2021, REDRESS filed a complaint before the Investigatory Powers Tribunal, the judicial body, independent of the British government, which hears complaints about the activities of the UK intelligence services, to try to determine the involvement of UK Agencies in Mustafa's torture and ill-treatment.
REDRESS believes that UK intelligence agencies may have encouraged, facilitated, or conspired with US authorities in Mustafa's torture and ill-treatment at a range of secret detention facilities to which he was forcibly rendered during the 2003-2006 period.
Our submission seeks to obtain (i) documents and information held by UK Agencies regarding Mustafa's torture and ill-treatment; (ii) declaration that UK Agencies or their agents were involved in his torture and ill-treatment and that their conduct was unlawful; (iii) compensation for their conduct; and (iv) costs.
THE OUTCOMES
COMPLAINT IN LITHUANIA
At the end of 2015, we received a formal rejection of our victim status request to the Prosecutor General. This rejection was upheld on appeal.
COMPLAINT IN POLAND
On 28 March 2014, the Prosecutor's Office rejected the application for victim status.
On 17 December 2014, the Prosecutor reiterated her refusal to initiative an investigation. It also separated REDRESS' application from the ongoing investigation and opened a new case file.
On 14 September 2015, the District Court of Szczytno rejected REDRESS's appeal and ruled that an investigation should not be opened.
CASE IN THE US
On 27 November 2013, the military judged issued an order denying REDRESS's motion.
REDRESS had represention from William J. Aceves, who was working pro bono on the case.
UNITED NATIONS
On 6 May 2016, the Vice-Chair of the Working Group on arbitrary Detention and several UN Special Rapporteurs requested the US government to provide observations, including to provide information concerning the measures taken to ensure his physical and psychological integrity as well as to ensure his access to adequate medical care.
On 20 July 2016, the US Government responded.
INVESTIGATORY POWERS TRIBUNAL
On 26 May 2023, he Investigatory Powers Tribunal announced that it will investigate the complaint brought by Mustafa al-Hawsawi against the UK intelligence services for their alleged complicity in his torture by US agents.
QUICK FACTS
Case Name: Mustafa al-Hawsawi
Court/Body: Regional Court in Vilnius (Lithuania); District Court of Szczytno (Poland); US Military Commission at Guantánamo Bay; UN Committee Against Torture; UN Special Procedures; European Court of Human Rights; International Criminal Court.
Date Filed: 13 September 2013 (complaint in Lithuania) and 12 November 2013 (complaint in Poland).
Current Status: Case pending
Legal Representation: REDRESS and HRMI
KEY WORDS
The Universal Declaration of Human Rights (UDHR) is a declaration adopted by the United Nations General Assembly on 10 December 1948, which represents the first global expression of the rights to which all human beings are inherently entitled.
The International Covenant on Civil and Political Rights (ICCPR) is a multilateral treaty adopted by the United Nations General Assembly on 16 December 1966, and in force from 23 March 1976. It commits its parties to respect the civil and political rights of individuals, including the right to life, freedom from torture, freedom of religion, freedom of speech, freedom of assembly, electoral rights and rights to due process and a fair trial.