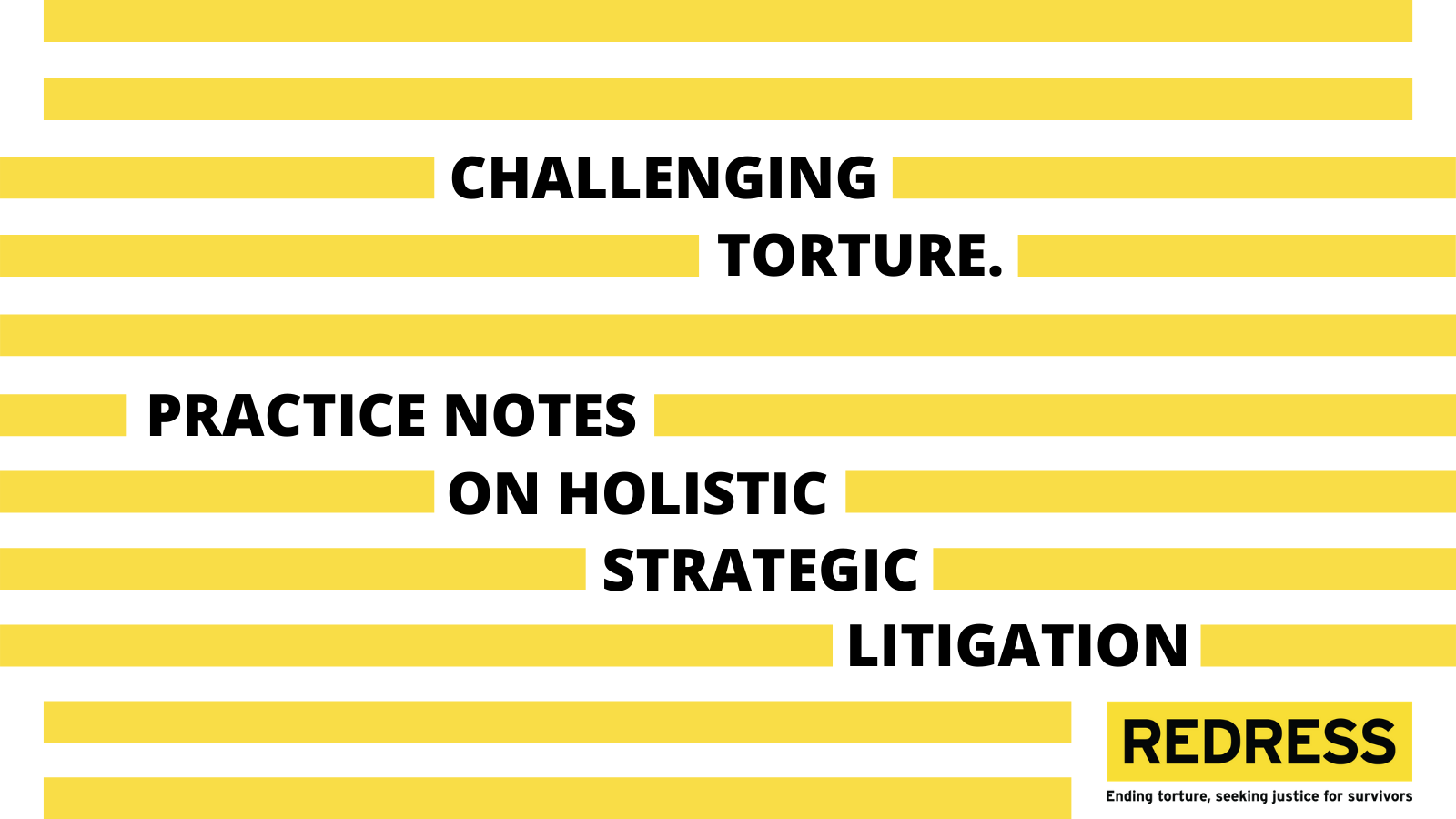 Challenging Torture and Ill-Treatment Through Holistic Strategic Litigation
Over the next few months, REDRESS will be publishing a series of Practice Notes on strategic litigation against torture. The first of these, published today, is The Law Against Torture, a guide setting out the main international and regional standards relating to the absolute prohibition of torture and ill-treatment. These practical guides are intended to support human rights lawyers and activists around the world to bring legal challenges against torture that can have a broader impact. This is part of REDRESS's programme on Solidarity, through which we strengthen and support the anti-torture movement.
Strategic litigation is a specific method that combines casework with other civil society techniques such as advocacy, media, communications, and activism to ensure there is impact after the judgment, a community behind the client, and a cause beyond the case. For example, in March 2019, the Inter-American Court of Human Rights, the ultimate authority on human rights in the Americas, issued a landmark judgement in the case of Azul Rojas Marín, litigated by REDRESS and its Peruvian partners Promsex and CNDDHH for 11 years.
Azul is a transgender woman, who at the time of the events identified as a gay man. In 2008, she was detained late at night by members of the Peruvian police while she was walking home. They insulted her and made derogatory remarks about her sexual orientation. Then, they forcibly took her to a police station, where she was stripped naked, beaten repeatedly and anally raped with a police baton. In its ruling, the Inter-American Court found Peru responsible for the torture and sexual violence suffered by Azul and ordered Peru to redress the damage to her and her late mother, who had supported Azul in her search for justice. Significantly, it also ordered Peru to adopt measures to tackle structural discrimination, and to protect other members of the LGBT+ community from similar violence, the need for which Peru had contested during the litigation.
The holistic approach means that the legal team must accompany the survivors through this process, and empower them to be advocates for their own cause, where they wish to do so. This means ensuring that there is medical, psychological, and social support where necessary, and actively planning how survivor communities can be part of the campaign. For example, the Uganda Victims and Survivors Network (UVSN) was launched in September 2019. The creation of the UVSN was the culmination of a series of victims' forums and policy dialogues carried out by REDRESS and its Ugandan partners, Emerging Solutions Africa and the Uganda Victims' Foundation, in war-affected regions in Northern Uganda. Over 300 victims and grassroots organisations came together for this project. Participants concluded that there was a need to create platform for direct, victim-led engagement with policymakers. Since its creation, the UVSV has participated in  several meetings with high-level officials over issues of concern to victims, such as the Transitional Justice Bill.
The Practice Notes in the series provide practical guidance for lawyers and activists, and also examples from REDRESS' practice. The upcoming Practice Notes include:
REDRESS has developed a specific methodology for brainstorming strategic litigation cases and campaigns; our Facilitating Litigation Workshops Practice Note will set out best practice for designing and facilitating such workshops, which can be held in-person or online. Through a project supported by the UN Voluntary Fund for Victims of Torture we have developed materials to help facilitate such workshops, which will be launched later this year. We are also grateful to The Matrix Causes Fund for providing financial support for this project.
We hope that these resources will help human rights lawyers and anti-torture activists around the world who are challenging torture and ill-treatment wherever it occurs.
By Rupert Skilbeck, Director of REDRESS
Follow Rupert @RupertSkilbeck
For more information, please contact: Eva Sanchis, REDRESS Head of Communications, on [email protected]; +44 (0)207 793 1777 or +44 07857110076.